"When popular protests started in Tunisia in late 2010, few anticipated the implications these events would have for the entire Arab region. In the following years, this region witnessed deep changes, increased divisions, and even failing states. Meanwhile, Tunisia managed to assert itself as a new democracy. How did this small country manage its democratic transition within such a short period? And what implications has this had for its foreign policy and its role in international politics?
This book assesses Tunisia's transition 'inside and out' from four angles: Tunisian polity and politics which provide the framework for its foreign policy since the 'Arab Spring'; bilateral relations before and after the 'Arab Spring'; Tunisia's activism in international organisations as well as their presence in Tunisia; and transnational issues in Tunisia. Drawing on a broad range of primary sources, including authors' own interview material conducted with politicians and representatives of civil society and international NGOs involved in the transition process, the book shows that since 2011 Tunisia has not only developed fundamentally at the domestic level, but also at the level of external relations. New and old alliances, a broadening of relations, and new activism of civil society and of Tunisia in international organisations certify that Tunisia has the potential to play an increasingly important role regionally as well as internationally.
Providing an encompassing picture of Tunisia's changed role and successful transition from an autocracy to a democracy, the book allows students and scholars in the field to understand the 'last country standing' better, a country that both the scientific community and the political scene should not underestimate for the promises it holds." (Routledge)
The book presents original research and analysis conducted by the research group "Tunisia in Transition – International Relations" over the last years and consists of four book parts:
I Principles, aspirations, limitations: reshaping Tunisia's foreign policy
II Oscillation, cooperation, commitment: Tunisia and its partners
III Inspiration, conditionality, concertation: Tunisia and international institutions
IV Challenges, uncertainty, determination: key transnational issues
With contributions by: Tasnim Abderrahim, Salma Besbes, Aymen Briki, Emna Chihi Ouji, Elena Dück, Mootaz Ghothbani, Soumaya Hichri, Ines Kalai, Rihab Kordi, Laura-Theresa Krüger, Katharina McLarren, Edmund Ratka, Marie-Christine Roux, Reinhardt Rummel, Jaweher Skhiri, Sabrine Souissi, Lisa Spantig, Bernhard Stahl, Ignaz Völk, Mohamed Nidhal Zaier.
For the contents list, please check this link.
For a review published by Bosco Govantes, Pablo de Olavide University in Seville, Spain, in the Revista de Estudios Internacionales Mediterráneos (in Spanish), please follow this link.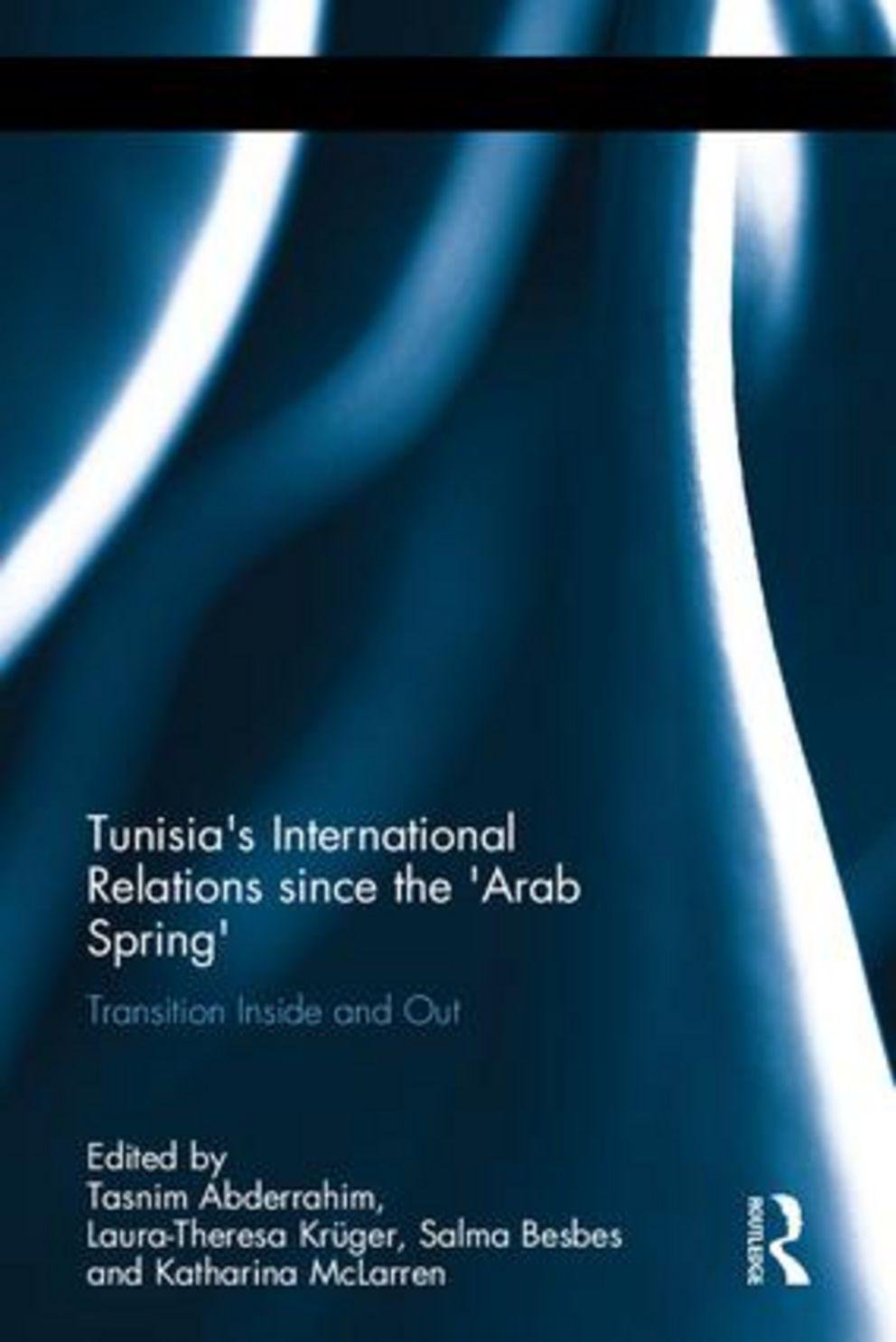 Bernhard Stahl (2016/2017): Die Reaktion der EU auf die Arabellion – das Beispiel Tunesien
(in: "Der Beitrag der Europäischen Union zur Stabilisierung des Nahen Ostens und Nordafrikas", Tagungsband zur Jahrestagung des Arbeitskreises Europäische Integration, pp. 51-64).
Prof. Dr. Bernhard Stahl has recently published (in German) on the EU's reaction to the Tunisian 'Arabellion'. For the availability options, please check here.
Laura-Theresa Krüger & Bernhard Stahl (2016): The French foreign policy U-turn in the Arab Spring - the case of Tunisia
(in: Mediterranean Politics)
Our project members Laura-Theresa Krüger and Bernhard Stahl jointly published an article about Franco-Tunisian relations before and since 2011 in the journal Mediterranean Politics. Therein, they argue that, as for many, the Arab uprisings of 2010–11 came as a surprise for France. After initial inactivity, followed by last minute support of the Tunisian regime, President Sarkozy took a U-turn by spearheading the military intervention in Libya and both Sarkozy and his successor Hollande announced a re-launch in the Franco-Tunisian relations. Starting from the assumption that France's drastic foreign policy changes cannot be sufficiently explained by presidential change, they draw upon social-constructivist discourse-bound identity theory and provide a model for discursive legitimations of foreign policy changes. When the "permissive consensus" between the three discursive formations of the French foreign policy identity breaks up, drastic foreign policy turns may occur. By analysing the French policy actions and rhetoric towards Tunisia between 2007 and 2015, the authors show, however, that the sudden change tends to be rather ephemeral and that French foreign policy seems to be gradually returning to its pre-revolution approach.
Elyès Bousbih & Abderrahmen Yaalaoui (2015): The Interplay of Politics and Religion in the New Tunisian Constitution: A Legal Analysis
(in: Mathieu Rousselin / Christopher Smith (eds), "The Tunisian Constitutional Process: Main Actors and Key Issues", Global Dialogues 7, Käte Hamburger Kolleg / Centre for Global Cooperation Research, 16-23)
Our former TiT fellows Elyès Bousbih and Abderrahmen Yaalaoui jointly published an article about the issue of religion as treated in the new Tunisian Constitution adopted in early 2014. At the same time, they take a comparative view on the predecessor Constitution and analyse on how far religion is now treated differently.
Laura-Theresa Krüger & Edmund Ratka (2015): Adapting Foreign Policy to a Country in Transition: France, Germany and the new Tunisia
(in: Mathieu Rousselin / Christopher Smith (eds), "The Tunisian Constitutional Process: Main Actors and Key Issues", Global Dialogues 7, Käte Hamburger Kolleg / Centre for Global Cooperation Research, 46-56).
The TiT project members Laura-Theresa Krüger and Edmund Ratka jointly published an article about how France and Germany adapted their foreign policies towards Tunisia between 2011 and 2014. They contend that while France has had some difficulties with adapting to the Tunisian transition, Germany found amore smooth and constructive way of dealing with the new political environment. The two authors link these findings to certain elements of French and German political cultures that either facilitated or hindered the redefinition of relations with post-revolutionary Tunisia.
Laura-Theresa Krüger & Edmund Ratka (2014): "A new response to a changing neighbourhood?" The Perception of European Policies in Tunisia after the Arab Spring
(in: L'Europe en formation, n° 371, 1/2014, pp. 9-25).
Our project members Laura-Theresa Krüger and Edmund Ratka jointly published an article about the perception of European policies in Tunisia after the Arab Spring. In their article, based on interviews with civil society activists in Tunis, they investigate whether Tunisians perceive a change in Euro-Tunisian relations and how effective and unified the presumably 'new' policy is in Tunisian eyes. While a perception of change clearly dominates, Europe is not seen as speaking with one voice. Yet, as the authors conclude, the intensified activism of several EU member states can still increase European actorness as a whole.
Anis Ben Amor & Edmund Ratka (2013/2014): 'A yearning for emancipation' - Article on European-Tunisian Cooperation in Culture and Education
English Version, German Version
Our project members Anis Ben Amor and Edmund Ratka jointly published an article about the challenges to the European Foreign Cultural and Educational Policy after the Arab Spring. The Article is a contribution in the Culture Report, Vol. 6 of the Eunic Yearbook 2013/2014: 'Europe from the Outside. Expectations of Europe's External Cultural Relations.'
The Working Paper Series serves as platform to share and discuss on-going research which is conducted in the framework of "Tunisia in Transition". In 2013, we focused on the developments of the Tunisian transformation process. Researchers examined issues such as the draft constitution, "post-revolutionary" labour market policies, or the media regulation in Tunisia.
In 2014 and 2015, the international dimension of the Tunisian transition constitutes a focus of our project. Preliminary research in this field was already done in 2013, in particular with regard to German-Tunisian relations and international organisations as transformative actors in Tunisia. Please find below respective working papers by our research fellows and the journal articles that group members have published so far: